Grease Lightning
Spot Treatment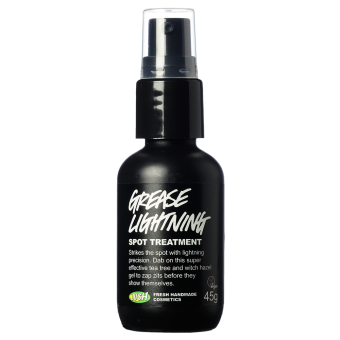 Grease Lightning is a powerful combination of ingredients that will nip any breakouts in the bud without upsetting the skin around them. We use an infusion of antibacterial and antiseptic rosemary, thyme and tea tree, as well as antioxidant-rich grape juice and witch hazel, which is astringent and anti-inflammatory and is said to soothe redness. This product is ideally applied when you feel a spot is about to erupt - prevention is better than cure. 
List of ingredients
Natural Ingredients
Safe Synthetics
*occurs naturally in essential oils.
We do not test our finished products on animals. We also only purchase from ingredient suppliers who do not test on animals. More.
Most Helpful
3 / 3 people found this helpful
This product is a life saver if you pick your skin! I can't help popping all my pimples until they are super gross, but dabbing a little bit of grease lightning on speeds up the healing process so much, it gets rid of excess oil, neutralises bacteria and really calms it down. I haven't notice it do anything on spots that I haven't picked and I'm not sure about the whole 'preemptive spot treatment' but this has lasted me for months and months and I'm still going strong. It's always there for me when I go a little crazy on my skin and heals up my torn up face like magic!
Top Rated
5/5 stars
Amy_Atkinson
About 1 year ago
I brought this on Monday this week while I was in lush shopping for my usual bits and bobs. With all the Christmas stress going on it made my skin very run down, and thus a lovely, huge, sore pimple decided I was going to make my cheek it's home. So I asked one of the wonderful ladies in store if they had grease lightning and got it added to the rest of my shopping. That night I put some on before I went to bed and I didn't really expect much, maybe just to help calm it down a bit. But the next morning that damn pimple was all dried up and pretty much gone!
Read More
Latest
1 month ago
acco7465_467124
About 1 month ago
Say goodbye to those pop-ups.
Most Recent
Most Recent
Most Helpful
Top Rated