Silky Underwear
Dusting Powder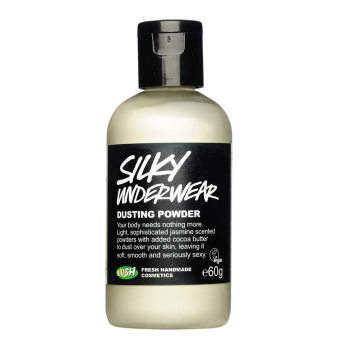 This dusting powder is the ultimate finishing touch; with cocoa butter and cornstarch to soften the skin and a sophisticated and sexy yet delicate jasmine and vetivert fragrance. After bathing or showering, shake a delicate layer of this moisturising, dusting powder all over your body for velvety soft skin. Our jasmine and vetivert fragrance is sophisticated and subtly sexy. With a dusting of Silky Underwear, you won't want to wear anything else.
List of ingredients
Natural Ingredients
Safe Synthetics
*occurs naturally in essential oils.
We do not test our finished products on animals. We also only purchase from ingredient suppliers who do not test on animals. More.
Top Rated
5/5 stars
lilac7266_449612
About 1 year ago
This product is fantastic, treats chub rub like a dream! Purchased this after recently getting chub rub more often and within a day the powder had cleared up the problem! Plus it makes your skin extra smooth and works even better if you sprinkle some in your bed sheets-wake up feeling extra smooth!
Latest
1 year ago
saradickson2000_447468
About 1 year ago
Lads and ladies with chubby thighs don't have to suffer in summer any longer, this honestly saves a season of rashes and chafing. Putting this on your thighs after a shower feels as good as freshly shaved legs, and chuck it in your bag and dab it on every time you go to the bathroom and HOLY GOD you are a summer goddess and nothing can stop you now.

Just get this.
It's so good.
Most Recent
Most Recent
Most Helpful
Top Rated