Mint Julips
Lip Scrub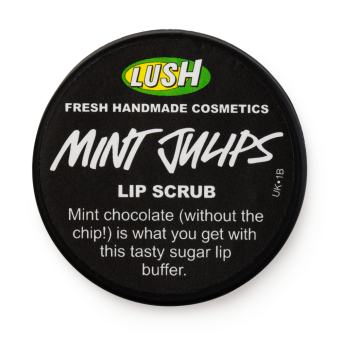 A gentle lip scrub with more than a hint of mint humbug about it. Turn chapped lips into mint-choc chip lips: warming peppermint and sweet vanilla combine with real sugar crystals give your lips (and tastebuds) a service, leaving them primed for smooth lipstick application. As soon as you gently rub Mint Julips on your lips, you'll feel its invigorating peppermint oil tingling away while the sugar crystals buff away any flaky skin.
List of ingredients
Natural Ingredients
Safe Synthetics
*occurs naturally in essential oils.
We do not test our finished products on animals. We also only purchase from ingredient suppliers who do not test on animals. More.
Most Helpful
1 / 1 people found this helpful
Ellie_paris
About 2 years ago
I love this lip scrub, amazing scent!
Top Rated
5/5 stars
lushaholic
About 1 year ago
This lip scrub tastes so gooooood. The fresh feeling on my lips is great. It's a very gentle yet effective scrub and leaves my lips feeling invigorated and soft.
Wouldn't recommend for sensitive skin, my lip line broke out with pimples after a few applications not sure if it was the scrub that cause it but definitely irritated this area so had to discontinue use! Loved the feeling on my lips and the taste was great too!
Most Recent
Most Recent
Most Helpful
Top Rated