I Love Juicy
Shampoo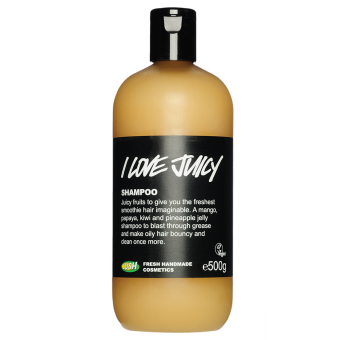 Packed with fresh fruit to deeply cleanse and clarify hair. This is a fruit cocktail for the hair to cleanse and refresh it, softening seaweed to leave your locks super-shiny once they're extra-clean. Freshly juiced pineapples, kiwi, mango and papaya are full of enzymes that help break down excess sebum (oil) on the scalp, leaving hair looking and feeling fresh and clean.
List of ingredients
Natural Ingredients
Safe Synthetics
*occurs naturally in essential oils.
We do not test our finished products on animals. We also only purchase from ingredient suppliers who do not test on animals. More.
Top Rated
5/5 stars
joylouie99_463749
About 5 months ago
Bought this shampoo and the first time I used it, it gave me such a deep clean. Honestly love it so much. I don't think I'll use any other shampoo from now on. My hair is slightly on the greasy side and using this shampoo allows me to wash it less which I love. Highly recommend!
Latest
2 weeks ago
greenlewis.nikita
About 2 weeks ago
I love this shampoo so much! you dont need to use a lot and yet everytime it leaves my hair feeling so good this is my shampoo for life now
Most Recent
Most Recent
Most Helpful
Top Rated