Daddy-O
Shampoo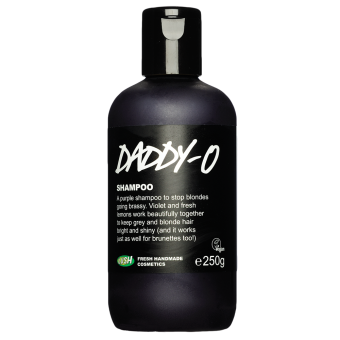 Daddy-O works to add volume and shine to your hair. It's the lemon and organic lime juice which allow the cuticles to lie flat and reflect more light, helping the hair to shine. We've created an infusion from toothed wrack seaweed and organic lemons, that cleanses and softens. Extra virgin coconut oil hydrates the hair, whilst fine sea salt gets to work by to softening and giving body to your hair. What makes this extra special is that it can revive your silver and blonde tones. 
List of ingredients
Methyl Ionone
Hexyl Cinnamal
Natural Ingredients
Safe Synthetics
*occurs naturally in essential oils.
We do not test our finished products on animals. We also only purchase from ingredient suppliers who do not test on animals. More.
Most Helpful
1 / 1 people found this helpful
This shampoo does a really good job of brightening my hair, there's a noticeable difference after two uses but it makes my hair so knotty and dry! I have extremely curly hair, even if I brush out the curls, wet it, comb it and lather it so the hair doesn't wrap around I still end up with gigantic knots! I've never had this happen with a shampoo before. When I follow through with the American Cream conditioner it still feels incredibly dry, like every drop of oil has been sucked out of it.
Read More
Top Rated
5/5 stars
Rosiiiee
About 1 year ago
Ive been using this for a number of months now and it is so good! At first I used it with the matching conditioner bar and the smell of violet was just divine, but I much prefer using the big conditioning bar now I've tried it. Degreases without over drying (I have very fine hair), and over time has removed all yellowy tones from my mousy brown/blonde hair. It's all I ever use now :)
Latest
1 year ago
lyndewes
About 1 year ago
I have used this product for years and it is great for my hair with or without conditioner it never leaves my hair tangled/knotted.
Most Recent
Most Recent
Most Helpful
Top Rated