The Greeench
Deodorant Powder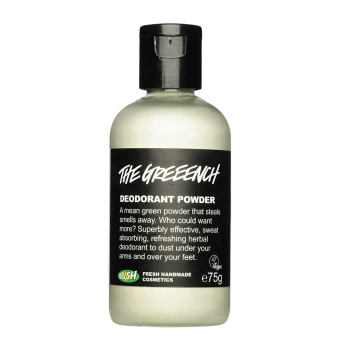 This natural deodorant powder may be green but the herbal goodness packed into it makes it anything but mean. Thyme, tea tree and sage steal away odour and keep you fresh. So don't sweat it! A herby handful of rosemary, sage and thyme unite in true Who spirit to battle bacteria and keep you smelling fresh. This may not look like your conventional deodorant, but rest assured absorbent lycopodium powder will keep your pits dry so you can strut your stuff with confidence. Sprinkle onto the palm of your hand and rub into dry, clean pits. That's it. Simple.
List of ingredients
Natural Ingredients
Safe Synthetics
*occurs naturally in essential oils.
We do not test our finished products on animals. We also only purchase from ingredient suppliers who do not test on animals. More.
Top Rated
5/5 stars
leilanikaye
About 6 years ago
In the past year and a half I became aware of the harm caused by aluminium in deodorants and started trying natural alternatives. Out of the 10-12 different natural vegan deodorants I have tried, this is the ONLY one which actually works! I used to have to take one with me to school to touch up as it wore off quickly but I put this on at 7am and by 4pm I still smell fresh! This has changed my life!
Latest
3 years ago
mamamie_101
About 3 years ago
Amazing stuff! While I initially did not like the smell, it eventually grew on me and now I think it smells so lovely and refreshing! I work in a very busy hospital and I sweat a lot more than the average person, and this works for the entire day! I hardly ever have to re-apply. I sometimes put a bit of Vanilla Puff dusting powder over the top just to add a light fragrance or to help with providing extra dryness, although often I don't need to because the Greeench does so a pretty good job at that already. Even if you don't like the smell of it, it does fade after a minute or two of applying.
Read More
Most Recent
Most Recent
Most Helpful
Top Rated