Dark Angels
Fresh Cleanser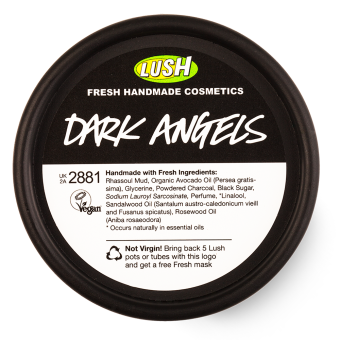 This is for those of you who really like to scrub your skin to feel clean, with black sugar and charcoal to exfoliate, and rhassoul mud to deeply cleanse. We also use cold pressed avocado oil and vegetable glycerine to moisturise and soften your skin after all that scrubbing, leaving your skin feeling balanced and fresh. Sandalwood and rosewood oils give a rich, earthy fragrance and have a cooling and antiseptic effect on the skin. We buy our powdered charcoal locally in Dorset. It's a great way to exfoliate and is deeply cleansing, whilst black sugar is in here to scrub away any dead skin cells, leaving you with bright, refreshed skin. 
List of ingredients
Sodium Lauroyl Sarcosinate

Black Sugar
Natural Ingredients
Safe Synthetics
*occurs naturally in essential oils.
We do not test our finished products on animals. We also only purchase from ingredient suppliers who do not test on animals. More.
Most Helpful
1 / 1 people found this helpful
lucylearned
About 7 months ago
leaves a mask of thick black oil on my face. not sure if the batch i got was meant to be as oily as it was. 1/10 do not reccommend. claims that say " washes off with warm water" are a joke
Top Rated
5/5 stars
alminaharoon_448656
About 7 months ago
I love using this product. I use it once a week and it really helps with my skin. I generally use it and then follow it with ocean salt the next day. Perfect combination if you have oily but dry skin.
Latest
1 month ago
rhiannadactyl
About 1 month ago
I love this product so much. I've repurchased it a few times and yes, each batch comes slightly different and sometimes there is an oily black film left on your skin but really, it isn't hard to get off with a flannel and warm water! I find it smells like liquorice, which turned me off a bit but I actually love it now! It leaves my skin silky smooth and sands down my dry patches. Will probably use this til I die!
Most Recent
Most Recent
Most Helpful
Top Rated